Those who've served in office to provide educational leadership for the counties of Clay, Crawford, Jasper, Lawrence, and Richland.
(Click on a county below to view listing)
Please Note: Lists for Clay and Crawford Counties were compiled from multiple sources. Regarding dates, sometimes conflicting information was noted. For all five counties, the dates listed may reflect the year of election and not the year the Superintendent actually assumed office. Therefore, dates listed should be considered as approximate for historical purposes.  These lists are believed to be complete and in their proper order of service to the office.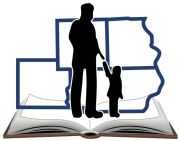 Did you know...
1829:  Illinois General Assembly approved a School Act which provided for the appointment of a County Commissioner for Schools, which served as the forerunner of the current office.
1865:  Illinois Statutes were amended to create the Office of the County Superintendent of Schools.  (102 County Superintendents)
1973:  Legislation passed that required a minimum population to be served by the Superintendent.
(78 Superintendents of Educational Service Regions (ESRs)
1977:  Changes to State Law further raised the minimum population requirements.
(57 Superintendents of Educational Service Regions (ESRs)
1995:  Educational Service Centers (ESCs) were eliminated and rolled-into the ESRs, necessitating a change in the name of the office to Regional Office of Education (ROEs).  Yet another increase in minimum population further reduced the number of superintendents to 45.
2012:  Illinois General Assembly amends the School Code to again raise the minimum population (this time to 61,000), reducing the number of Regional Superintendents to 35 in 2015.